Barbie and Lee Christian Cafe Testimonials
ChristianCafe.com is a Christian based singles site that is devoted to matching up Christian singles based on shared religious beliefs and values. Join the thousands of Christian singles that have already discovered the advantages and the opportunities at this great online dating site. Beyond their Christian membership base, Christian Cafe also provides all the great tools and effective features to help you meet other fun and exciting Christian singles for a chance at finding true love. Many grateful singles that have found their match at Christian Cafe are now telling their story of their new found love.
Please read this true story by former Christian Cafe members, Barbie and Lee, about their faithful online meeting and the love that followed. In reading their story, we hope that it will rejuvenate your soul and grip your senses to realize what could be in store for you at Christian Cafe. We wish you the best in your faithful journey to finding someone truly special. Please come back and share your online success story with us and with other singles like yourself.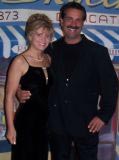 Barbie and Lee Testimonials
From Christian Cafe
Our wedding - October 9th! Praise the Lord and THANK YOU, ChristianCafe.com! I have been single for 13 years, raising my four children and just making a living. I met some wonderful, quality men on the Cafe, but just never the "right one", until NOW!
So many of my friends would tell me, "You're WAY TOO PICKY, Barbie!", but I guess I just knew there was someone special out there and when I met him, I would know!
It was Lee! I saw his picture on this site last December and noticed it first because he had his Weimerainer dog standing beside him. I grew up with those dogs and really love them too! Then I read his profile and sensed his love for the Lord and his heart for missions, so I wrote to him. He wrote back and that began our relationship. After hundreds of emails and over 500 hours on the phone, we met on April 21st. I flew to Nevada to help him move out of a house he had just sold, so our first date was loading a U-Haul, but we did it with huge smiles on our faces and had a blast!!
What an awesome man!! I think we both knew, standing there in baggage claim at the airport, that God had something very special for us! We sensed it before, but needed to meet to know if there would be that "chemistry" between us, and there was, BIG TIME!!
We are honoring the Lord in our relationship, putting Him first, and continue to read the Word and pray together and over the phone when we are apart. I consider Lee a very special gift from the Lord and am looking forward to October 9th, the day I will become his wife!
Thanks again for this service. Thank you Jesus! Thank you Lee!
-- Barbie-barbie979 & Lee, August 2004
---
These online dating testimonials are courtesy of ChristianCafe.com. If you have dreams of a wonderful relationship with a fellow Christian, try joining Christian Cafe Today and get started yourself in the exciting world on online dating. For more info on this online dating service, read our ChristianCafe.com Review.
---
| | |
| --- | --- |
| More Christian Cafe testimonials: | More online dating testimonials: |
---
Online Dating Services > Online Dating Testimonials > Christian Cafe Testimonials > Barbie and Lee Testimonials
---