Date.com is quickly becoming the top online destinations for singles because they effectively connect singles together for love and romance. This has resulted in many success stories and marriages from truly grateful Date.com users. These success stories of their new found relationships inspires us all to get out there and explore the opportunities of finding someone truly special.
Please read this remarkably fascinating story by Horsychick and Dptazz about their Date.com connection. After reading their story, we hope that you will too share our sentiment about the great opportunities to be had with online dating and with Date.com. Horsychick and Dptazz's successful experience with the services available at Date.com is something that everyone should try. We wish you great success in finding your special someone and please come back and share your online dating experiences with us and with other singles like yourself.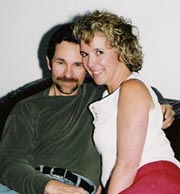 Horsychick and Dptazz Testimonal
From Date.com
I decided to join your site last Fall, since dating in my small home town was turning out to be rather difficult. My friends scoffed at me for "Internet dating" but I figured that I had nothing to lose. The funny thing is, the last two guys in a row that I dated locally were named Dave! But neither of them were just quite what I was looking for. Then, while searching your site one evening, I found a profile that particularly interested me. Staring at me with the most intense pair of blue eyes was one extremely handsome man! I was mesmerized. So I decided that I just had to contact him - and guess what his name was???? That's right, Dave!
Dave only lived an hour from me, so we chatted on line, then by phone, and then immediately decided to meet. February 16, 2004 was the "first date". And while it is a calendar date that will live on in infamy for us, the "date" itself didn't actually go all that well. Still, something told us that we just had to give it another try. And in fact, we gave it several more tries!
They say that the "3rd time is a charm". Well I believe that is true, because by the 3rd date, I knew that I wanted to be with the "3rd Dave" forever! And on our 3rd "month-iversary", he proposed! Dave is the most perfect, wonderful, romantic man and the soulmate that I have dreamed of and prayed for. Even though we have only recently met, it feels like we have known each other for a lifetime and can't think of anything better than spending the rest of our lives together. Thank you, Date.com, for opening the door so that Dave and I could meet. We could never have done it without you.
---
This online dating testimonial is courtesy of Date.com. Join Date.com Today and get started yourself in the exciting world on online dating, where your dreams really can come true. Read our Date.com Review for more information on this online dating service.
---
| | |
| --- | --- |
| More Date.com testimonials: | More online dating testimonials: |
---
Online Dating Services > Online Dating Testimonials > Date.com Testimonials > Horsychick and Dptazz
---