Date.com is quickly becoming the top online destinations for singles because they effectively connect singles together for love and romance. This has resulted in many success stories and marriages from truly grateful Date.com users. These success stories of their new found relationships inspires us all to get out there and explore the opportunities of finding someone truly special.
Please read this remarkably fascinating story by Horsegirl and Rich_FF about their Date.com connection. After reading their story, we hope that you will too share our sentiment about the great opportunities to be had with online dating and with Date.com. Horsegirl and Rich_FF's successful experience with the services available at Date.com is something that everyone should try. We wish you great success in finding your special someone and please come back and share your online dating experiences with us and with other singles like yourself.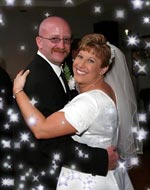 Horsegirl and Rich_FF Testimonal
From Date.com
My husband, Rich, and I met on Date.com in May 2002. He first contacted me and we corresponded by email for about a week before deciding to exchange phone numbers. Our first phone conversation lasted many hours and we did not seem to run out of things to talk about. We found out we lived in the same town and fairly close to one another. After a few phone conversations, we decided to meet. We instantly felt like we each had just found a long lost friend and known each other all our lives - it was a great connection. After that, we spent as much time together as possible. We were both falling in love and feeling that we wanted to spend the rest of our lives together. In November of 2002, we moved in together and then in February 2003, he proposed to me!
We are big NASCAR fans and in February 2003, we went to our first race together in Daytona, Florida. (We live in Florida). It was in the infield of Daytona Speedway during the Daytona 500 that he proposed to me, and of course, I said yes! It was amazing! We planned an April 2004 wedding. On April 24, 2004, we were married in beautiful ceremony and had a wonderful reception following. It was a totally magical day! We are both very happy!! Everyone who asks how we met is always amazed when our response is "on the Internet." For those who are skeptical of Internet dating, as we both were in the beginning, we can honestly say it does work!! Thank you Date.com for bringing us together. It is a great site!!
---
This online dating testimonial is courtesy of Date.com. Join Date.com Today and get started yourself in the exciting world on online dating, where your dreams really can come true. Read our Date.com Review for more information on this online dating service.
---
| | |
| --- | --- |
| More Date.com testimonials: | More online dating testimonials: |
---
Online Dating Services > Online Dating Testimonials > Date.com Testimonials > Horsegirl and Rich_FF
---